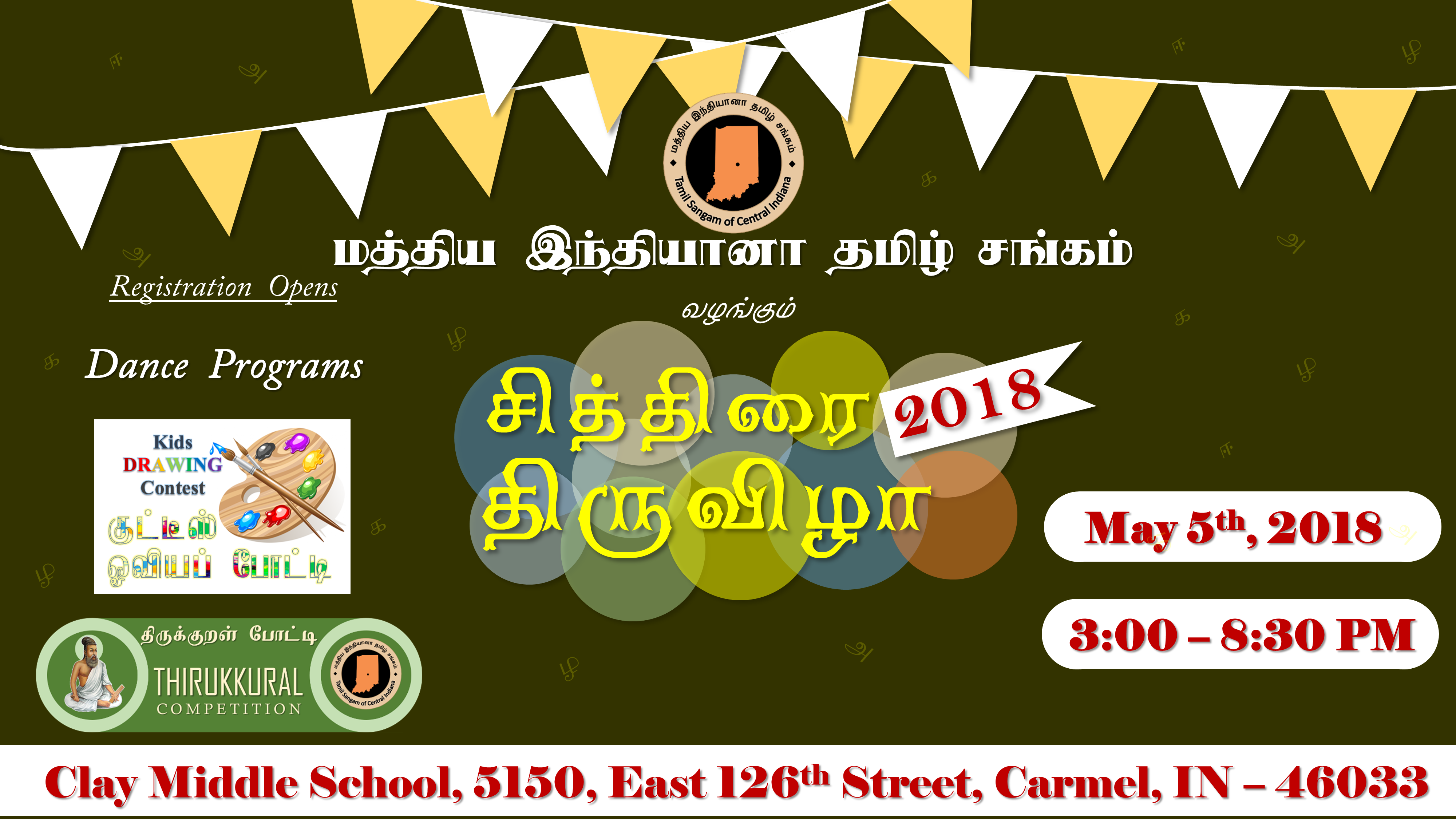 Buy Tickets online and SAVE
1. Kids can use Thirukurals from any of the adthigarams.
2. Parents can record the video of their kid's speech from their home itself.
3. Each age category is having following rules.
3a. 3-6 Years: 4 Thirukurals (4 திருக்குறள்கள்)
3b. 7-10 Years: 7 Thirukurals with meaning (7 திருக்குறள்கள் பொருளுடன்)
3c. 11 Years & Above: 10 Thirukurals with meaning (10 திருக்குறள்கள் பொருளுடன்)
4. There shouldn't be any background noise, disturbances and the video should be clear.
5. Speech should be in Tamil Language.
6. Please make sure to have clear background.
7. If there are any edits/ changes found, the entry will be disqualified/ denied for the competition.
8. One kid can submit their video only once. Maximum time for the a video is no more than four (4) minutes.
9. Videos should zipped and sent to sangam.tamil@gmail.com with subject : "Chithirai 2018 - Tamil Speech competition" on or before Sunday, Apr 29, 2018 EOD.
10. Uploaded videos are property of TSCI and will be used by Sangam for future event advertisements.
11. There will be three categories in the competition based on the age group.
12. Each category will be awarded prizes based on the number of participants.
13. The winners will be announced during the event on 05/05/2018.
14. Videos are evaluated by TSCI EC team & Tamil school panel of judges and that will be the final.
Sponsor Details
Thanks to our Premium & Gold Sponsors